!-onMouseover Link CSS Script-© Dynamic Drive (www.dynamicdrive.com). For full source code, installation instructions, 100's more DHTML scripts, and Terms Of Use, visit dynamicdrive.com-->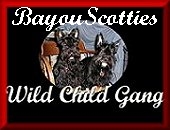 You may use any of our banners, if you'd like to LINK to our site!
More banner choices can be found on the

Banner Links

page!


Please let us know, so we can visit your site!!



Updated 10-17-10



We'd LOVE to add your site to our Links page.


E-mail

us and let us know!!




---
Scottie Email Lists
CyberScots
Scotty Lovers
Scottish Terrier Internet E-Cards
Kate Connick's Scottish Terrier Ecards
Plaid Post Office
Scottydog.com Postcards
Virtual Scots
Breed Information
Scottish Terrier Club of America
Scottie Grooming Guide
Kate Connicks' Courteous Canines, LLC
Scottish Terrier Pedigree Search
Scottish Terrier Breeders
HopelPopel Scottish Terriers
HiQ Scottish Terriers
Keipat Scottish Terriers
MistyMoors Scottish Terriers
Roscot Kennel
Top Brass Terriers
Wilscot Scottish Terriers
Wooden Shoe Kennel
Scottish Terrier Clubs
Cascade Scottish Terrier Club
Scottish Terrier Club of Greater Atlanta
Scottish Terrier Rescue
Arkansas Scottie Rescue
Bonhaven.Org-Scottish Terrier Rescue Organization
Scottish Terrier Rescue of Colorado Springs, Inc.
Oregon Scottish Terrier Rescue
Two Dogs Ranch Plus
International Scottie Websites
Arabella's Scottish Terriers - Germany
Prannoch des Chardons du Perche - France
Sarahjoy Scottish Terriers - Japan
Scottie Personal Websites
3 Dog Howl
Barney Bush - Washington D.C.
BonnieBelle.com
Dunc & Fitz-the Harley Boys
Hampshire Hooligans
Mickey Tickner's Place
Rhode Island Scotties
ScotE.Com
Scots & Spots
ScottiesGoneWild
Scottydog.com - The Cape Cod Scotties
WeeDogs.com
WeeMidget.com
Scottie EVENTS Sites
Door County Scottie Rally
NON-Scottie Personal Websites
Longlease Bernese Mountain Dogs
Scottish Terriers in PRINT
Barnaby the Scottie
Raising Duncan
Scottish Terrier Health
ASPCA Animal POISON Control Center
FIRST AID & Emergency Dog Links
Merck Veterinary Manual
Scottish Terrier Club of America - Health
Scottymed.com
Scottie Shopping
Animal Portraiture by Pauline Gledhill
Artpaw.com - Custom Pet Portraits
Boyd's Crystal Art Glass, Inc.
Campbell's Scottish Terriers - Collectibles
Marion Needham Krupp
Miller Country Dogs
Puttin' on the Dog
RRazzy's Collection
Sassy Scot
Scotty's Gifts & Accessories
Tartan Scottie
The Scotty Dogs.Com
Winged Woman Designs
Web Graphics
Backgrounds by Marie
Creations by Dawn
Graphics by Penny Parker
Ivy's Graphics
Grammy's Gallery
Graphic Gifts
---


| Site Menu
| Banner Links | Awards | Email | Memory Lane
| Tell a Friend |



Webmaster: Katie & Riley's Mam





©Copyright 2000-2009 All rights reserved.
Autumn Leaves