Keipat's Star-Spangled BayouScot

"BANNER"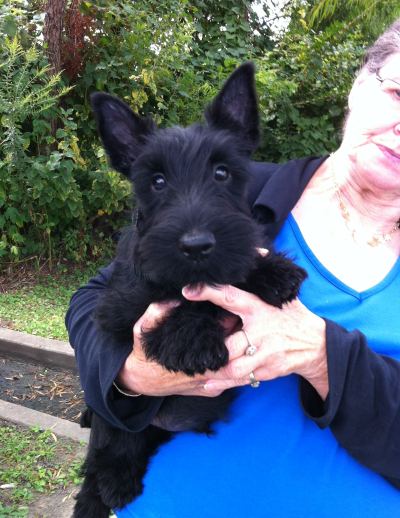 The FIRST ever photo I take of my new lad, Banner....
(THE FIRST of MILLIONS of photos of this handsome face!)
We met his breeder, Pat Baker,
of Keipat Scottish Terriers,
way up in Arkansas.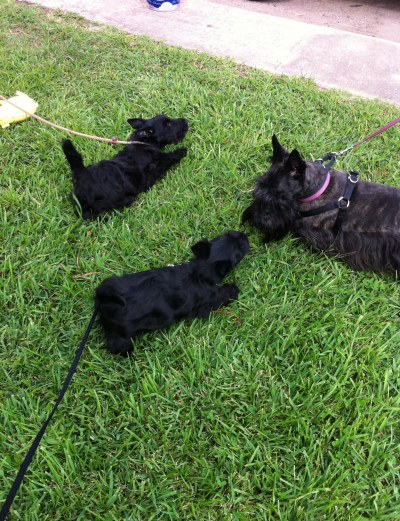 Vangie meets her new pal/playmate/shark!
Banner is the 'black' leash....
The OTHER pup is Banner's sister,
who accompanied him on his journey to his Forever Home!
Actually, Banner is Vangie's NEPHEW!
His Dam is Chloe, Vangie's littermate sis!!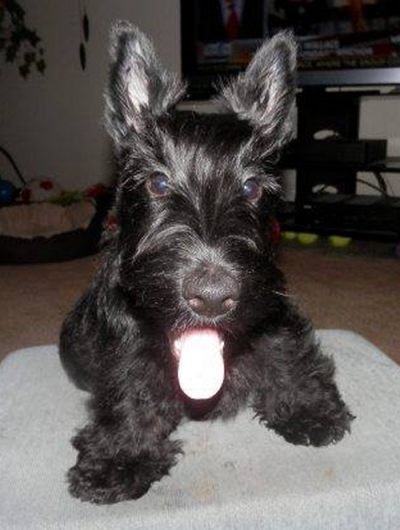 At home on the Bayou, Banner is Lord of all he surveys.....
He has mastered the 'Blue Footstool',
and is quite proud of himself!!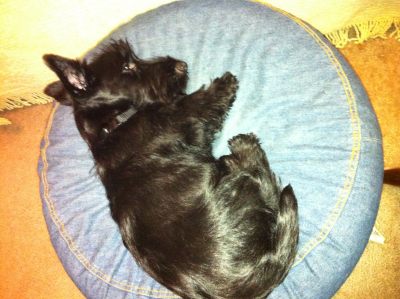 His NEXT conquest was the larger, TALLER
hassock in the bedroom....
Vangie uses it as a springboard to
the tall, antique bed.
BANNER first 'pulled up' by grabbing a mouthFUL of hassock
fabric and PULLING himself up. Within days, he was leaping
up like a Mountain Goat! Now, it's his nap space....
JUST right for a wee lad on a 'recharge nap' !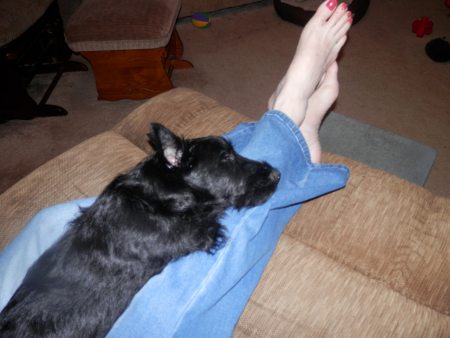 In those quiet moments, he wants in Mam's lap....
he's a cuddler, a kisser, and LOVES to be 'sweet-talked' !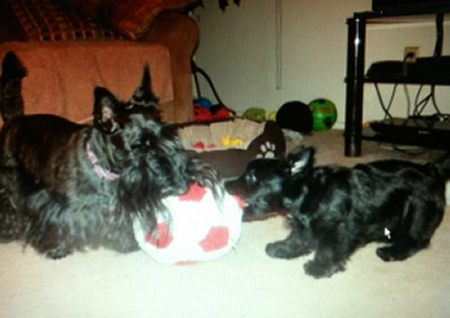 It's constant bedlam nowadays here on the Bayou.....
Vangie is in her '2nd puppyhood' and is having a SUPER good time....
Banner thinks she 'ROCKS'...
and follows her around, taking NOTES!
Their favorite game is 'CHASE'...
and wee Banner BOOGIES up the hall
as fast as his wee legs will carry him!!
Happy Times here on the Bayou.....
YEARS of exciting adventures, bold deeds,
and Scottie ATTITUDE ahead of us......
YIPPEE !!!










| Site Menu | Links | Awards | Banners |
|Guestbook | Tell a Friend |


Webmaster: BayouScotties' Mam

ęCopyright 1999-2014 All rights reserved.
Bonnie Doon