Evangeline has an inquisitive nature. She browses, she noses around, she snoops, she peers into boxes. Actually, she EATS boxes! She's always ready to discover something new. That's how it all began.
One day last week, my wee baby, Evangeline, stumbled upon 'the book'..... Katie Wild Child's private BASH DIARY!
At the time, I LOVED the fact that she was TOTALLY occupied in a book, rather than her more 'creative, i.e. destructive' hobbies! Vangie spent a couple of days, curled up in the rocker by the window, reading intently, hour after hour. That didn't concern me. I'd "LIVED" those adventures that Katie had recorded into her diary. I had no doubt that Vangie would consider it all fantasy tales of some demented author.
Then, yesterday, Vangie became secretive, flashing a 'sneaky' smile each time I raised my eyebrows inquisitively at her 'odder than usual' behavior. My old, experienced "UH OH" alarm bells went off in my head.
I'd questioned Riley, with very little success.
"Oh, she's just being her usual WEIRD self", he'd said. "As long as she stays off my nap pillow, I don't CARE what she's up to!" Riley announced, as he turned around twice, then plopped down on his favorite cushion.
Planting his muzzle on the soft pillow, he grumbled. "Tell her to lay off the squirrel screaming until after my nap!"
Suspicious now, I spent the rest of the day watching Vangie out of the corner of my eye. She was NOT underfoot, which was an OBVIOUS change in her behavior, and I often had to go LOOK for her... usually finding her in corners and out of the way hidey holes. I didn't notice the Cell Phone..... THEN!
THEN, late last night, I found my address book poking out of my purse... totally uncharacteristic! Thinking "puppy", I assumed she was 'looking for trouble' again.
A quick search found her sitting quietly in her bed, an angelic expression on her face. I gave my sweet baby girl a gentle muzzle kiss, a quick 'scritch' under her chin, and went back to my chores, feeling guilty for having SUSPECTED the innocent babe of any chicanery!
I just can't imagine how I'd lost my 'edge' during the months of the innocence of Vangie's puppyhood!
But, tonight....... the old feeling of dread reappeared.
Riley came in from yard, alone!
"Where's the baby?" I asked him, a scowl on my face.
Riley strolled over to the couch, gave his pillow a push with his muzzle, then settled comfortably before he explained. "The kid was really taken with Katie's BASH DIARY. She read it 3 times, cover to cover! She asked me if it was TRUE.... I told her every WORD was TRUE. Told her I'd BEEN there to WITNESS every event, first hand! She really thought that was SUPER COOL!"
"WHERE'S THE BABY?!?!?!" I asked again, steely-voiced.
"Okay... she found your address book, she got Captain Scotty's phone number, she CALLED CAPTAIN SCOTTY, told him who she was, that she was about to turn 1yr old....and said she wanted a PLANE RIDE for her 1st Birthday!"
"WHATTTTT? WHERE is SHE NOW???????"
"Ohhhhhhhh, wellllll....... I escorted her out to the back yard, held her PAW until HE arrived. I introduced them, and she left with Captain Scotty!"
"SHE WHATTTTTT???????????????"
"Relax, Mam......," Riley reassured me. "He held her paw all the way to his motorcycle. He strapped her into the seat, put the helmet on her, and she was holding on tight when he sped off down the street."
"WHERE are they GOING?" I asked, dreading the answer.
"Ohhhhhh, Vangie had a GREAT IDEA! Since she's about to leave 'puppyhood', she wanted one LAST fling as a TODDLER! Soooo, she and Captain Scotty are going to go pick up the Toddlers, and take them for their first SCOTCORDE FLIGHT! Vangie said she'd already called the TODDLERS, and they KNEW she was coming.... don't THINK their Mams and Dads know, though."
"Ohhhhhhh, dear Gussie!" I groaned. "Okay, then... who called the Guardian Brigade... Vangie or Captain Scotty? I know they have supervision!"
"Nahhhhh," Riley replied, shaking his head carelessly. "They don't need supervision! Captain Scotty can handle 8-10 TODDLERS! What do they need with the BIG 'uns?!?! Nah, there ARE NO GUARDIAN BRIGADE members on this flight!"
I turned and raced to the phone...... my mind was racing!
My BABY GIRL was off, by herself, UNSUPERVISED...
She was going to sneak out TODDLER furkids.....
These TODDLERS are heading off to goodness-knows WHERE....
With NOOOO GUARDIAN BRIGADE...
IN a SUPER-SONIC JET, capable of INTERSTELLAR TRAVEL..
What could POSSIBLY go WRONG!?!?!?!







Chapter 2
BREAKING NEWS
This is Rock N. Scott, action anchor for the BAYOUSCOTTIES ACTION NETWORK.
We are receiving unusual reports from the Bayou.
The information we're receiving says the ScotCorde, grounded for 2 years now, has taken off from its base on the Bayou, with its long-time pilot, Captain Scott Terry at the controls.
Our sources report that the newest member of the WildChildGang, Evangeline Faire, has convinced Captain 'Scotty', as he's known by his furfans, to take up the legendary jet for a private party!
It seems that Evangeline is celebrating her 1st birthday today. She and her litter sisters, Raven, Chloe, and Gaira are partying, jet-set style with several TODDLER youngsters!
Wait, I'm getting new information! We now have an 'inside source', ON BOARD the ScotCorde. The source reports EXTREME partying happening onboard, saying the partiers have been given carte blanche aboard the exquisitely appointed jet... including COMPLETE access to the cockpit itself!
Images from onboard the flight are now coming in...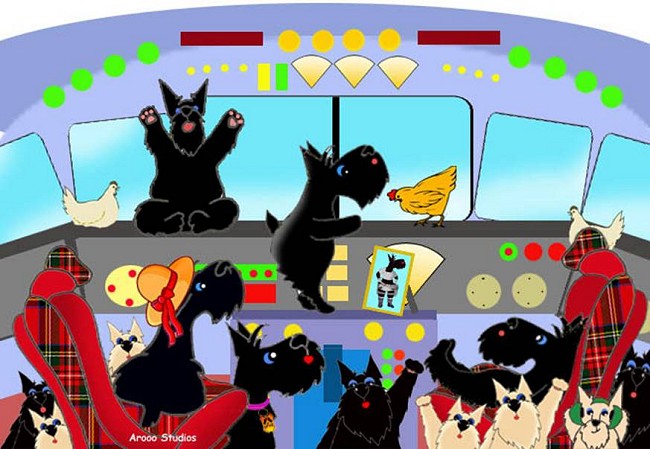 WELL, it surely does appear that the party-goers are enjoying themselves!
Incredibly, we're now receiving texts and messages from the Toddlers, themselves!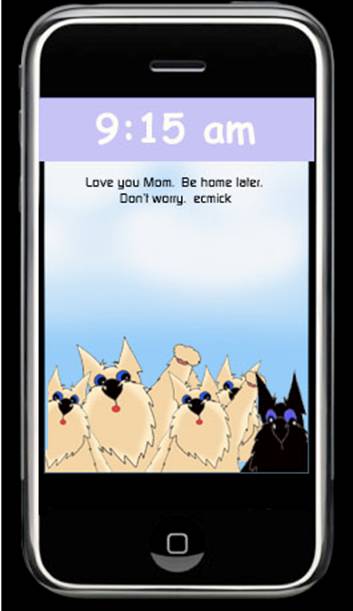 We can now give you a FEW of the names of the Toddlers enjoying this jet-setting adventure... Scarlett, ECMick , Brindie, Mac Delli Carpini, MacDuff , Bentley and Riley, MacBirch, WCMick , Mac, Clairee , and JRod,Bella, and Emma.
We apologize for the sketchy reports, but our connection with the onboard source has an enormous amount of background noises, and the audio is extremely garbled.
We DO know that the flight plan for this jaunt covers much of North America... we would appreciate any sightings or reports from our viewers, to keep us all informed of the happenings on this most unusual Birthday Party.
We will continue to monitor the situation for you.....
For now, we'll return you to your regularly scheduled programming.
This is Rock N. Scott, reporting for BAYOUSCOTTIES ACTION NETWORK!

Chapter 3
PARTYING at the PIZZA PUP!!
AROOOOOOOOOOOOOOOOOOOOOOOOOOOOOOOOOOOO!!!!!
Sir Riley Rambunctious here...... it's a RED LETTER DAY!!
The PILL is off galavanting, and I'm FREE, UNDISTURBED, and HAPPY as a CLAM!!!
THIS HUNGRY GUY is headed down to the PIZZA PUP, where I'll spend the ENTIRE DAY keeping the pizza chefs busy refilling the Pizza BUFFET!
ALLLL GROWN UP furfriend are invited!!!! GROWN UPS ONLY!!
ARRROOOOOOOOOOOOOOOOOOOOOOOOOOO!!!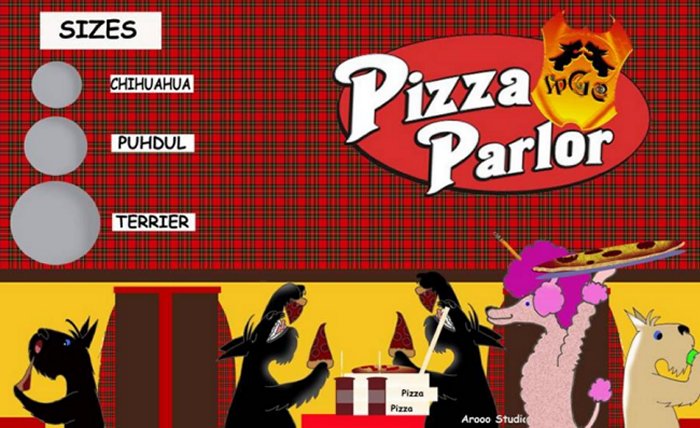 Chapter 4
Breaking NEWS -
BAYOUSCOTTIES ACTION NETWORK!!
We interrupt programming to bring you updates on the BIG story of the day, the jet-setting group of Toddlers speeding around the country on the legendary jet, the ScotCorde.
We have received reports all afternoon, from citizens across the U.S.... reporting it doing a fly-UNDER at the Golden Gate Bridge... to seeing it in New Mexico, apparently for a ski party for the party-goers.
As the afternoon eases into evening hours, the number of Police Departments wanting answers have grown. As far as we can determine, the total now stands at 15 jurisdictions now hot on the trail of the fast moving party.
Also in pursuit now, is a group of large canines, apparently tracking the ScotCorde, in an effort to catch up to the globe-trotting party. It's unclear at this point what their true motives are. Some experts are voicing concerns for the Toddlers' well-being, claiming the larger canines are attempting to 'crash' the party.
OTHER officials are referring to the large group as being 'Guardians', but we are unable to confirm this information at this time. We will continue to watch this for you.
On an interesting side-note, the elder Scottie sibling of the party lass,Evangeline, has created chaos of his own. Apparently celebrating an afternoon free of toddler interference, Riley Rambunctious has spent the entire day down at the neighborhood pizza shop, the "Pizza Pup". We've sent a crew down there to cover this aspect of the growing story.
Terry Err is on the scene. Terry can you give us a sense of what is happening there at the pizza shop?
Yes, Rock... it's pandemonium over here at the "Pizza Pup". About 1:30 this afternoon, the pizza parlor apparently ran out of pizza dough, pepperoni, and oddly enough, kibble bits!
A quick call to their supplier soon resulted in 4 18-wheelers pulling up at the pizza shop's back door. There now seems to be a steady STREAM of trucks, delivering all SORTS of odd food items. At one point, about 20 minutes ago, 18-wheelers were lined up down the street, all the way to the Interstate!
We have NOT been able to gain access to the "Pizza Pup", simply because the Fire Marshall has refused to allow anyone else to enter. He reports the building is designed to safely hold 45 occupants. But, the latest info from the waiters inside the pizza shop have the Pizza party guests #'s closer to 350..... all personally invited, and apparently KNOWING some unknown 'secret codeword' that is being required for admittance.
Crowds are now growing here, as the noise level from INSIDE the shop continues to rise. We'll continue to TRY to talk to some of the party-goers, but so far.... we're only able to watch from OUTSIDE the building.
This is Terry Err, reporting LIVE, from the "Pizza PUP"!
Thank you. Terry. To summarize what we know SO FAR: The ScotCorde continues to hop-scotch its way around the country, stopping periodically to enjoy the local tourist attractions, or in several cases, to take over entire 5-star restaurants to feed the crowd of partiers.
There is a second group, trying to catch UP to the jet, ALSO tracking their way around the country.... THEIR purpose, at this point, is unknown.
WAIT... we're now getting confirmation. The 'mystery group' is actually the widely known protection team for the BASH adventures, the legendary GUARDIAN BRIGADE! WELL, that explains it! The Guardian Brigade is attempting to reach the Toddler party. We'll keep a CLOSE eye on their progress.
Then, the older siblings of the Toddlers are apparently LETTING THEIR FUR DOWN, here at the "PIZZA PUP". We understand that they are refusing admittance to anyone younger than 1yr old!
Reports continue to come in, increasing greatly as the parents of these partiers return home from work, probably receiving text messages and phone calls. We'll keep you updated as we gather further information...
For now, the ScotCorde continues to criss-cross the country, the party at the Pizza Pup continues to line up trucks to restock the pizza buffet.... and the 'Guardian Brigade' continues to track the ScotCorde!
This is Rock N. Scott, reporting for the BAYOUSCOTTIES ACTION NETWORK!

Chapter 5
Birthday BASH!
Rock N. Scott here, with late breaking news on today's headline.
The ScotCorde, with it's birthday party passengers, has been located. About 2 hours ago, it made a spectacular landing right down the middle of Bayou Boulevard, pulling to a stop in front of the "Pizza Pup" restaurant.
The crowd that had gathered outside the restaurant was stunned by the legendary jet's unannounced arrival. Almost immediately, the crowd inside the restaurant raced out and sprinted to the waiting jet. Amazingly, the legendary jet wheeled and was airborne again within 3 minutes of its arrival, leaving a shocked crowd of onlookers!
Tracking the jet's flight pattern revealed one more VERY short stop, then proceeded directly to Orlando. Reporters on the scene reported that the jet made a spectacular landing, taxied to the far end of the runway, where at least 200 passengers disembarked from the plane, including a full contingent of 'Guardian Brigade', and boarded 8 tour buses.
Apparently, the cliche fits..... it seems the entire Birthday Party is going to DisneyWorld! The Director of Public Relations at the park revealed that at least 2 guests in the birthday party have picked up the tab for a private OVERNIGHT party at DisneyWorld, followed by a Steak & Egg breakfast served on the beach, at dawn tomorrow morning.
According to the flight plan that has just been filed by the ScotCorde's pilot, Captain 'Scotty', he expects to depart Orlando just after dawn Friday morning, and will return the party-goers to their homes shortly after.
We must say, this has been an amazing day. How thrilling to actually see the ScotCorde operational again. And, I'm sure the Toddlers and their friends will have quite the tales to share upon their return.
And, from all of us at BayouScotties ACTION NETWORK, we want to wish Evangeline a most JOYOUS 1st Birthday!!!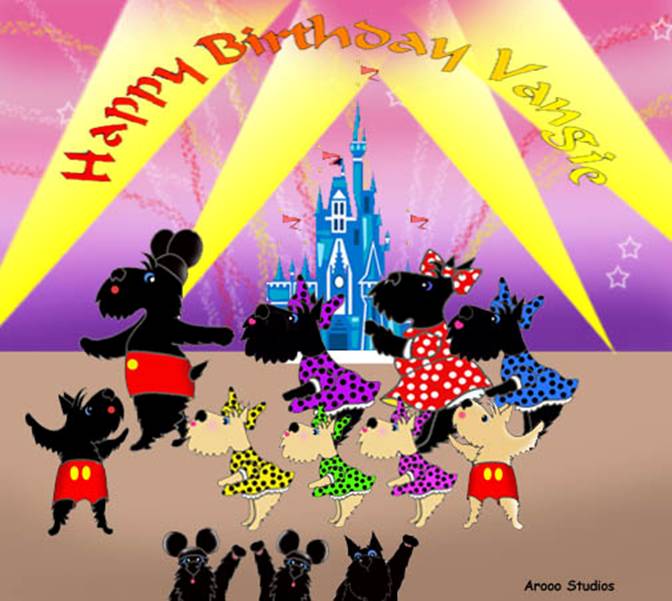 This ORIGINAL story has been created and written by Carol Johnson.
ORIGINAL illustrations are the work and property of Karen Donnelly.
They are NOT to be reproduced in ANY way ....PERIOD!!!!

| Site Menu | Links | Awards | Banners |
|Guestbook | Tell a Friend |


Webmaster: BayouScotties Designs
Let The Good Times Roll
Or - as we say on the Bayou --- LAISSEZ LE BON TEMPS ROULER!!!